Social ads to Streaming TV
Why advertisers are moving from social ads to Streaming TV

And how they are saving money while increasing their sales.

Streaming TV ads are more cost effective than social ads

You might not think that such a premium, impactful media channel like TV could be more cost effective than paid social, but it's true, and the gap is only going to widen. Read on to find out why.
The leading social channels aren't what they used to be

Advertisers have long relied on Facebook and Instagram as their main advertising channels, but most don't realize that costs are skyrocketing so that they aren't the cost-efficient channels they once were. In fact, Facebook impression costs have increased by 54% from Q4 2019 to Q4 2021. On Instagram costs have gone up 50% from Q4 2019 to Q4 2021.
Costs are exploding on Facebook and Instagram due to numerous factors:

#1 Increased competition across the board: It's estimated that 1 million new businesses begin advertising on Facebook & Instagram every year. As dollars flood into these channels, competition for the same eyeballs increases.
#2 Reduced audience sizes: Apple's rollout of iOS 14.5 in 2021 included their App Tracking Transparency (ATT) framework. Under ATT, all apps must show a prompt to users requesting them to opt in to allow advertisers to track them across other apps and sites. Only 28% of iOS users have opted in to tracking on social media apps. This means that a majority of iPhone users are not able to be tracked, targeted, or measured by advertising campaigns.
#3 Increased competition for trackable users: In response to the difficulty in tracking iOS users, advertisers have shifted more budget to Android users, Facebook's algorithm also prioritizes these users because they are more targetable and trackable. Both events means there's increased competition for this audience and therefore increased costs.
Other social channels are seeing the same effects. From 2020 to 2021:

YouTube's CPM has increased by 108%
TikTok's CPM has increased 92%
Snapchat's CPM has increased 64%
It's clear that the old set it and forget it strategy of prioritizing social media isn't going to cut it anymore as they become less efficient and performance decreases.
"Most don't realize that costs are skyrocketing..."
How does streaming TV compare?

The lowest cost per completed view: Streaming TV ads are viewed to completion 95%+ of the time, far higher than any other media channel. Because of that, the cost per completed ad view is between $0.03 and $0.05.
STREAMING TV ADS COST PER AD VIEW:
87% CHEAPER THAN FACEBOOK ADS

STREAMING TV ADS COST PER AD:
54% CHEAPER THAN YOUTUBE ADS

Ads are seen and noticed:

On streaming TV, ads are full screen, full sound, and are unskippable. The average view time of a streaming TV ad is 27 seconds. The average ad view time on Facebook and Instagram is 1.7 seconds.
Consumer attention is very different on streaming TV compared to other popular media channels. On social media, people scroll quickly for updates and dopamine hits. On YouTube, they are consuming mostly short form, lower quality content.
Both channels are mostly viewed on mobile devices. With streaming TV, viewers are settling in to watch their favorite movies and shows, and most are watching this content on the largest screen in the home, the TV.
This difference in attention translates to ad impact on these platforms. A recent survey found that 46% of consumers found streaming TV ads most memorable, versus 33% who said ads on social media were most memorable.
When you compare streaming TV to other popular digital media choices, the difference is stark. It's a quick diversion versus focused attention. It's clear which channel is more valuable to advertisers and more impactful with consumers.
How are marketers responding?

According to Digiday, in the last year, 16% of marketers have started shifting advertising budgets into streaming TV, and 55% have done so within the last 1-3 years.

And this shift is significant. Digiday's survey found that, in 2022 78% of marketers moved 21%-100% of their budget to streaming TV.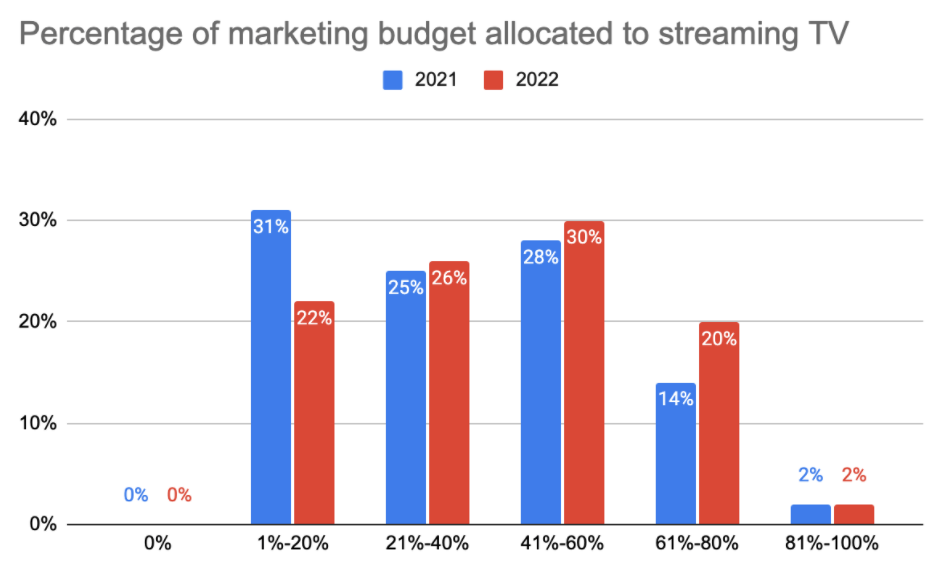 The two channels that marketers are most likely to shift budget out of and into streaming TV are Linear TV (58%) and social ads (41%)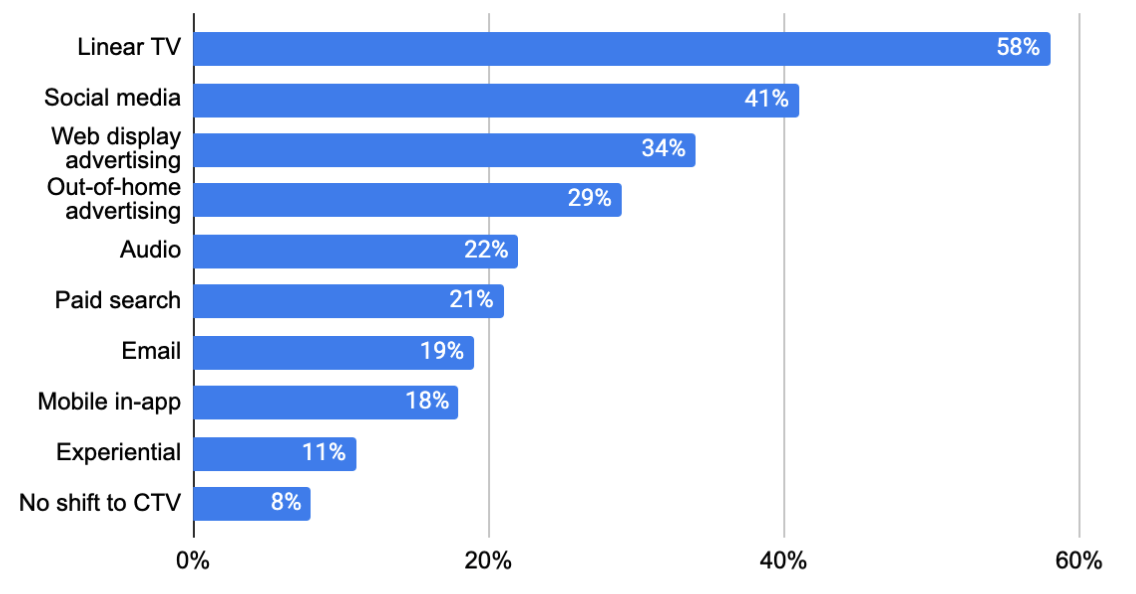 And these marketers are seeing results due to these shifts, with 71% seeing increased brand awareness, and 25% seeing higher conversion rates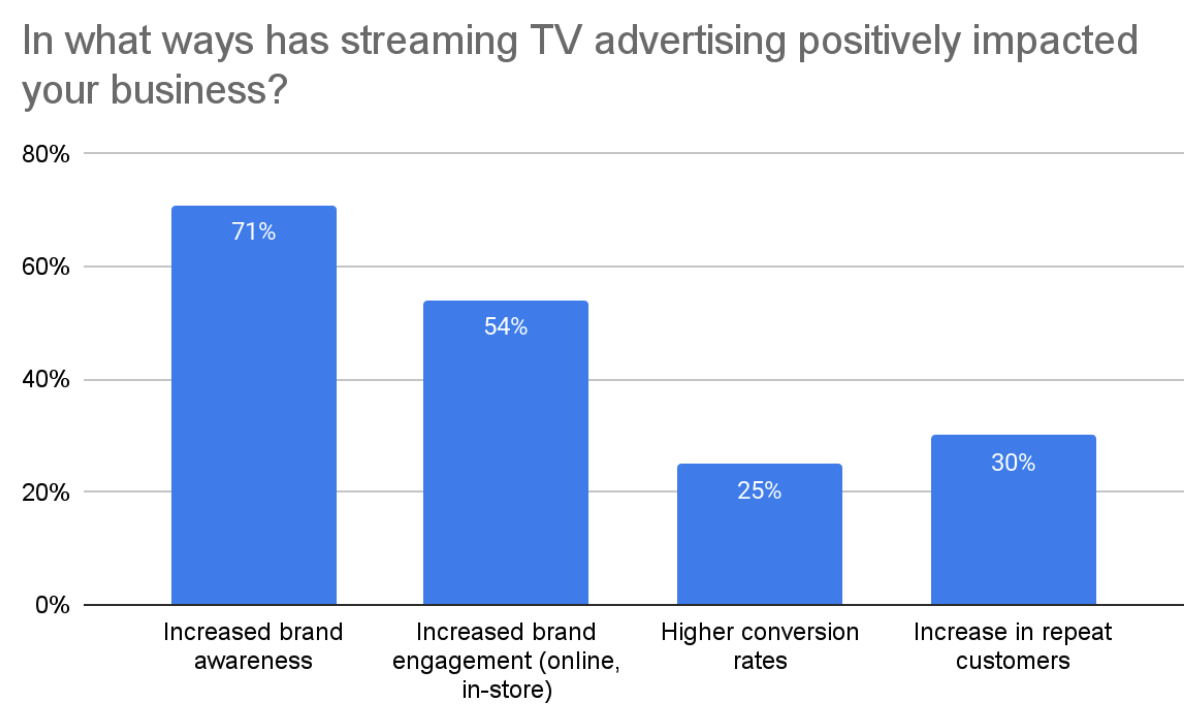 The opportunity is clear, and the time has never been better for advertisers to leverage streaming TV ads.
Let AdHype TV help you take advantage of the streaming TV opportunity

We're your one-stop shop for streaming TV ads:

With years of experience and expertise, we navigate the complex streaming television market so you don't have to.
We provide access to 95% of all streaming TV inventory:

Through our direct partnerships with Roku, Amazon Fire TV, Hulu, and more, we provide exclusive access to premium inventory and data that give your campaigns a leg up.
Get the attention and results you deserve:

Dedicated streaming TV Performance and Client Success teams means your campaigns are given white-glove service from start to finish.
We activate streaming TV campaigns fast:

Fill out a brief, sign your contract, provide your video ad, and your campaign will be live in 72 business hours or less.